AllGoEasy
A mobile app for wheelchair users and their caregivers to discover and share wheelchair-friendly places in Singapore, such as restaurants, supermarkets, cinemas, shops, etc.

Context:

  Project conceived at a hackathon for enabling people with disabilities
Team:

 With LJ Jang, Raja Kanagasabai, Clara Loh, Ivan Yong, Tony Zhu
Dates:

 Apr 2014 to Feb 2016
Role:

Leading design process (discovery to synthesis to concept development), UI design, Information Architecture
Skills:

Interaction Design, Wireframing, Information Architecture, User Research, Evaluative Research
Recognition:

Won SG$20,000 Jumpstart Grant  featured in TODAY and Lianhe Zaobao newspapers
AllGoEasy is a platform that crowdsources information on the wheelchair accessibility of places in Singapore, empowering wheelchair users to feel prepared and confident in venturing beyond their routine destinations.  
Target Users, Stakeholders & Value Flow
From research, we found that while buildings as a whole are wheelchair accessible, specific shops and businesses within them are often not. As a result, wheelchair users are often faced with unpleasant surprises, like narrow aisles, steps, etc. 

With AllGoEasy, we aim to create a community of tech-savvy wheelchair users, their friends and family and general public to share useful accessibility information. The app promotes the idea of micro-volunteerism as a means of engaging the public as key contributors of content.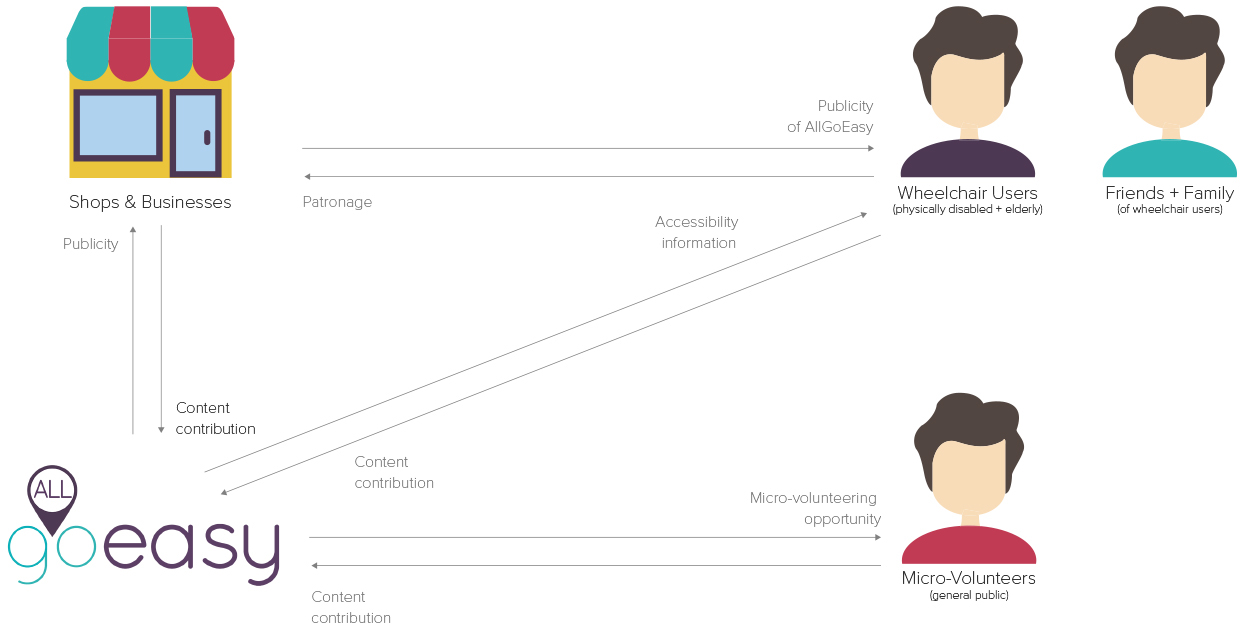 The AllGoEasy mobile platform enables users to:
• Discover wheelchair-friendly places and view accessibility information for them
• Request for accessibility information for places they want to visit
• Share their experiences with fellow users through reviews and photos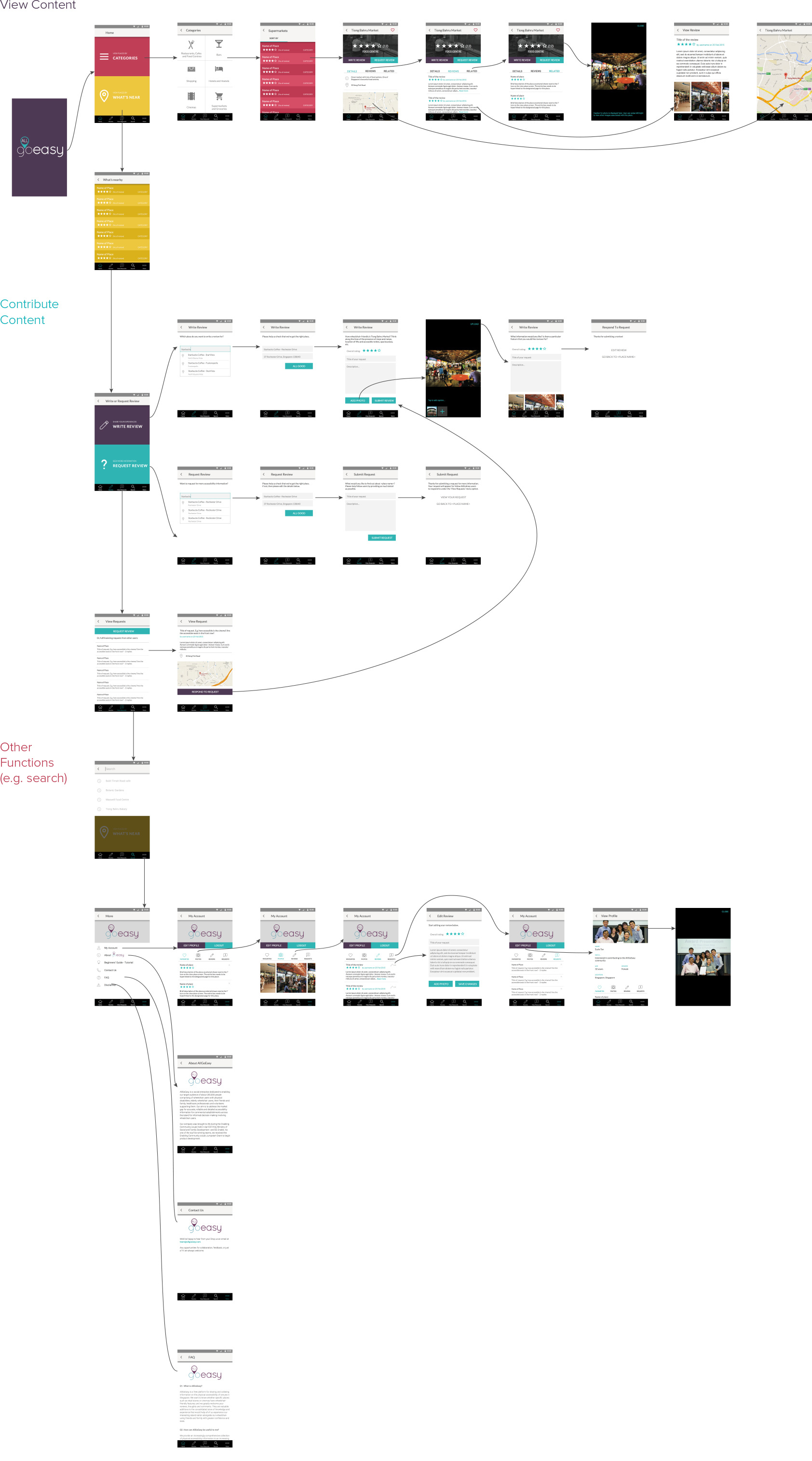 As two of our team members were wheelchair users, this gave us the opportunity to co-create the platform with its potential end-users. From a number of in-depth conversations with them, we uncovered some key challenges faced by wheelchair users in Singapore.

Unpleasant surprises when 
venturing to new locations.
While shopping malls, hawker centres, and and other buildings tend to uphold universal design and accessibility standards, this is not always the case for restaurants, supermarkets, cinemas, etc. that are located within them. Navigating through places of interest within these buildings were often challenging due to physical factors, such as steps within the premises, tabletops that are too high, and narrow aisles.
Insufficient information on the accessibility 
of 
specific places (restaurants, 
supermarkets, cinemas, etc).
Most wheelchair users find accessible places through word-of-mouth from friends, family and colleagues. The Building and Construction Authority's Our Friendly Built Environment Portal contains accessibility information for various commercial buildings, but the focus is on accessibility features of the buildings as a whole rather than shops inside.
Many wheelchair users do not venture 
beyond routine destinations, but want to.
Many wheelchair users stick to tried and tested locations - typically their workplace and a handful of recreational areas. However, they do want to go out, explore and enjoy all aspects of the city. 
Here's an example of what a typical user journey might look like when venturing out to a new place:
Out of the insights from research, we discussed the overarching goals for our solution which we summarised with these three design principles:
Equip wheelchair users with relevant 
and essential accessibility information.
We needed to understand what information wheelchair users needed in order to be confident and comfortable when exploring new places and ensure they were equipped with this information.
Facilitate discovery of 
new places.
One of the most powerful insights from the research was that people wanted to explore more, and discover new places. It was imperative that our platform needed to be designed to support this. 
Amplify information sharing 
People are already sharing their knowledge of accessible places. With out solution, we wanted to amplify their voices and allow their knowledge to be shared with more people.
Given that it was a hackathon, we had to quickly arrive at a concept to develop. We chose to design a platform that crowdsources reviews and ratings for different places based on their accessibility - similar to Yelp - but with a sole focus on wheelchair accessibility information. 
We put discovery at the heart of the user flow - on the home screen. Here, users have the option of exploring the most accessible places under various categories. By focusing on the "Top Rated" users can channel their attention on places that are wheelchair friendly, rather than those that are not.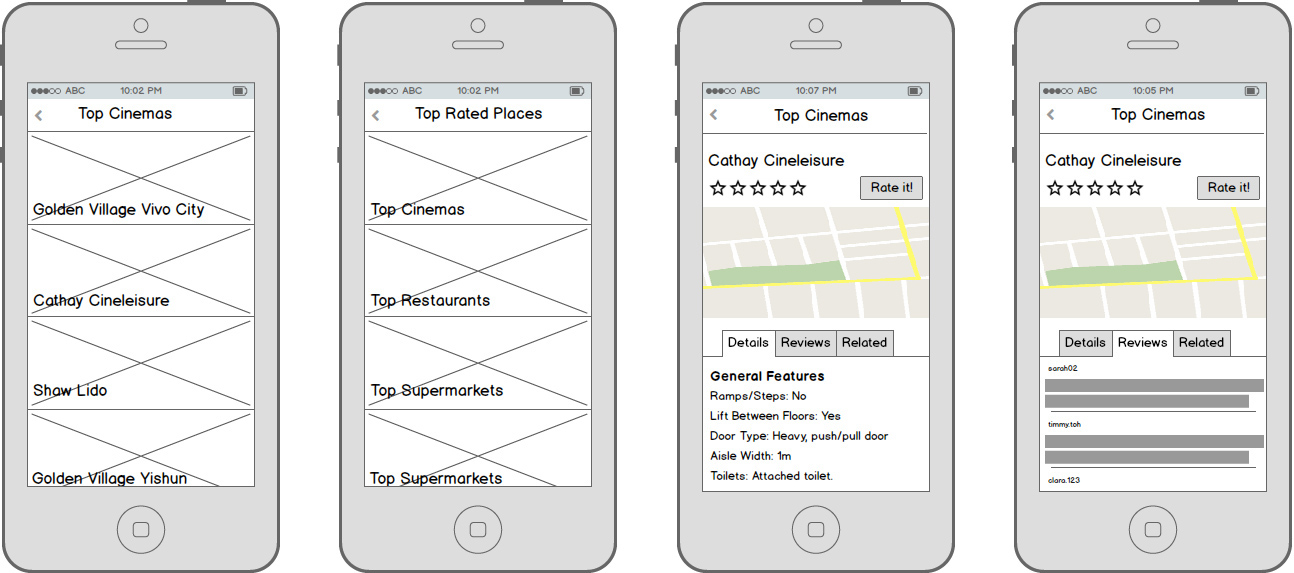 In order to be eligible for the full amount of the Jumpstart Grant, we had to develop and test a fully functional prototype of our solution within 2 months. The following are screens from this prototype. 
With this iteration, we worked through the kind of data wheelchair users needed in order to make informed decisions - accessible toilets, door types, presence of steps, wheelchair parking, etc. We worked closely with Tony and Raja, our resident experts, and a few others.
We organised a field trip with four wheelchair users to see how the app performed in action. Together, went through the process of finding a wheelchair accessible restaurant with the help of the app, travelling there and finally sharing our experience through reviews and photos. 
While we took note of challenges encountered throughout the journey, we asked everyone to reflect on their experience with the following feedback grid.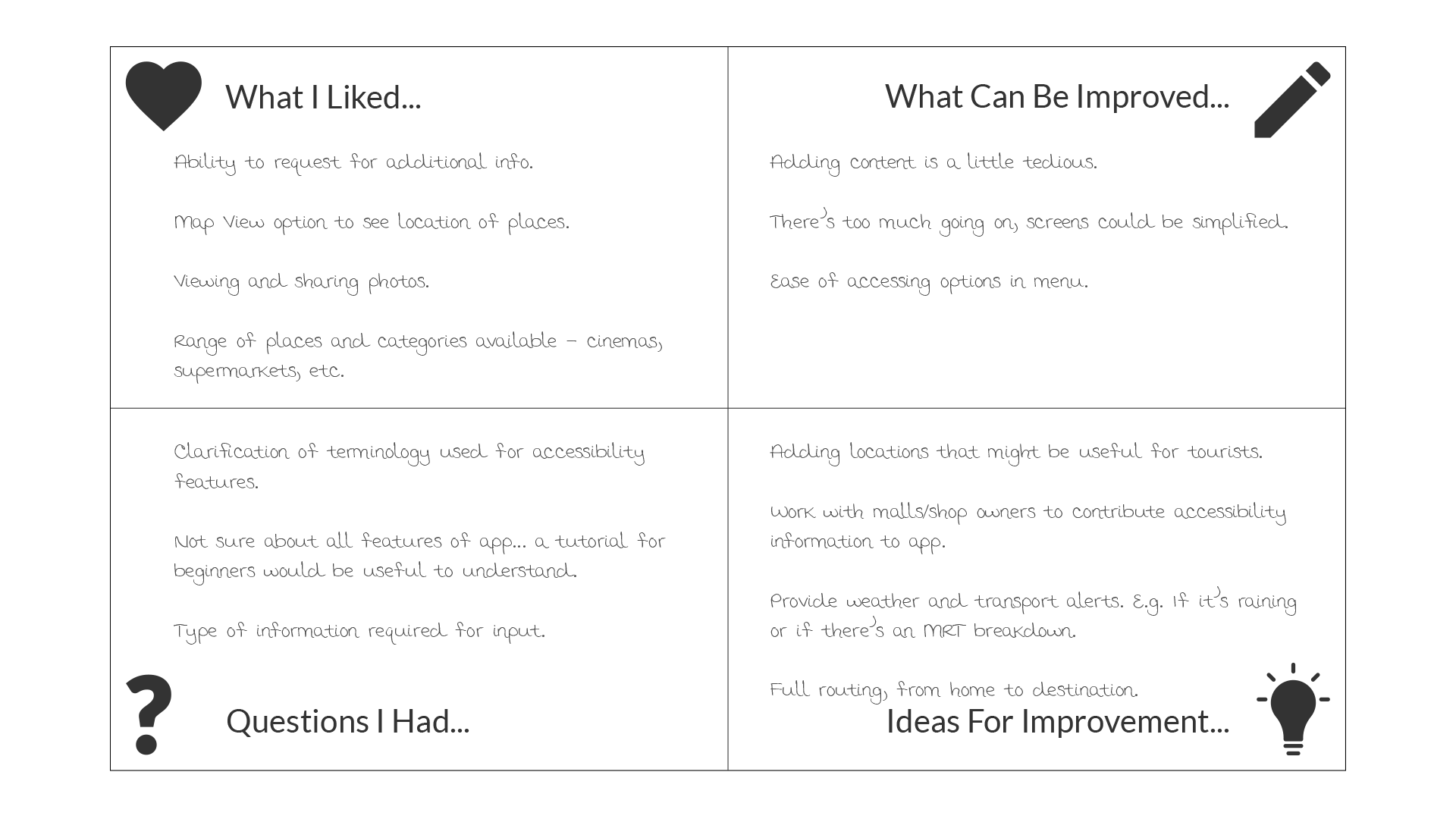 Based on feedback from user-testing, there was a need to simplify the experience - from discovery to adding reviews. The final design is an attempt at doing just this. The following illustrates some key design decisions to minimise the difficulty and cognitive load on users.
The earlier iteration used a hamburger menu that hides and displays the menu only when required. However, we observed people struggling with this, not being able to find what they wanted. Instead, we opted for the menu bar from which they could perform key functions: 1) discover new places; 2) write or request reviews; 3) view review requests from other users; 4) search, and; 5) control settings.

Accessibility Data & Reviewing Process
The process of inputing data on every accessibility feature proved to be too tedious for users. After careful consideration, we decided to allow users to provide feedback via an free form text field accompanied with suggestions on accessibility features to look for. 
We also broke down the reviewing process into three stages - entering the location details, verifying it, and writing the review - to prevent users from feeling intimidated by the information needed.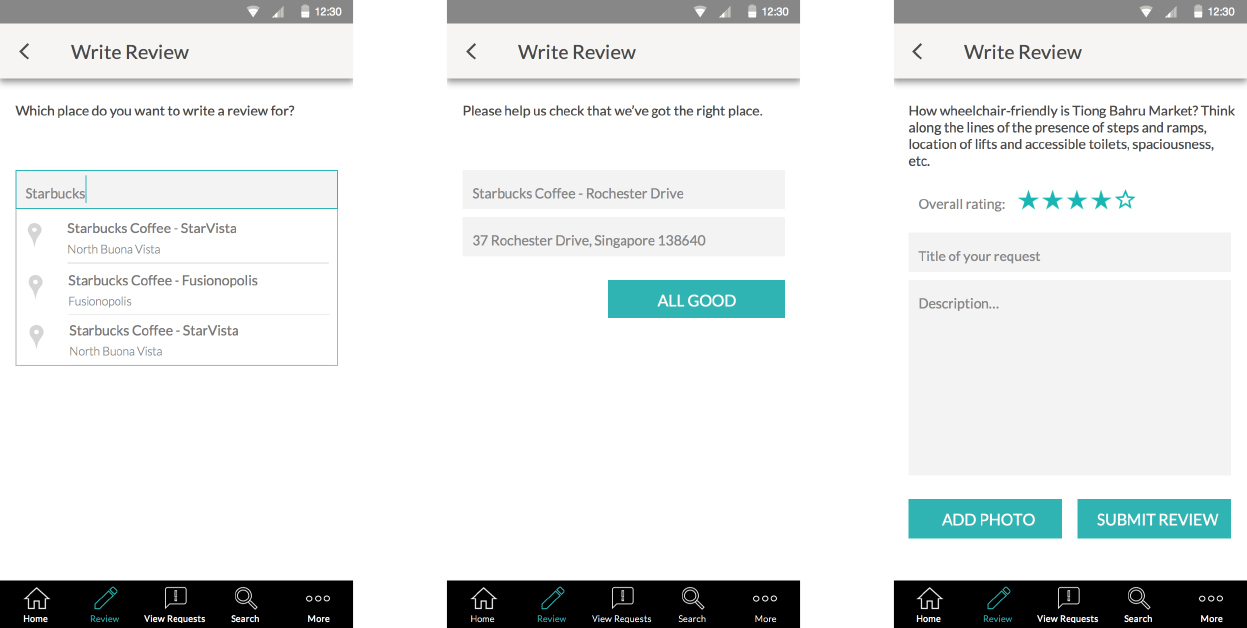 From research, we found that users typically sought out new places in two ways: with an idea of what they wanted or with a location in mind. The simplified home screen is designed to support both methods of discovery.
Once they select a category or location, they see a list of places showing only key, high-level information required for decision-making. They can then sort this list based on criteria, such as highest rating (default), most reviews, etc.