Iyagi
Iyagi is an interactive, immersive storytelling system designed to support parents and children through a fun, dynamic, and consistent bedtime routine.
Context:
Industry collaboration with Philips Design for Interaction & Service Design Studio, Fall 2016. The brief was to design a digital sleep solution that tackled sleep in a multi-user context.
Team:

 With Bori Lee, Chirag Murthy and Hannah Rosenfeld
Dates:

 Sep to Oct 2016 (7 weeks)
Role:

 User research, concept development, prototyping
Skills:

Interaction Design, User Research, Storyboarding, Wireframing, Prototyping
Recognition:

 Accepted as a work-in-progress paper into the ACM International Conference  for Tangible, Embedded and Embodied Interactions 2017

This concept came out of three key insights we gained from our research with parents. First, that

initiating the bedtime routine was tough

on parents and often required a lot of nagging. Second, children's bedtime routines tend to be

a family ritual

that the parents cherish. Third, parents found it

challenging to keep bedtime routines on track

and without major delays.
Iyagi is designed to support parents and children in building healthy and consistent bedtime routines. Through interactive storytelling, Iyagi aims to ease the friction that comes with initiating the routine as well as moving between activities in the routine for both parents and children. It does this by

unfolding stories across rooms

, incorporating elements of the bedtime routine such as teeth-brushing and bath time along the way. Iyagi provides the backdrop and interactive experience, while

parents keep doing what they do best

and breathe life into the story. 
The System & How It Works
The system consists of a smart projector, smarts tags for objects, mobile app and a smart lighting system.
The projector is i

nstalled in the rooms parents want the story to unfold in - typically where key bedtime activities take place. Tags allow everyday objects to be incorporated into the storytelling experience. Interactions like brushing teeth or putting away toys offer a novel means of engaging with the story. The app controls back-end functions like story selection. Smart lighting helps create a progressively calming environment as the family move through the routine. 
The diagram below is a look at a typical user journey and how Iyagi helps move children through the bedtime routine.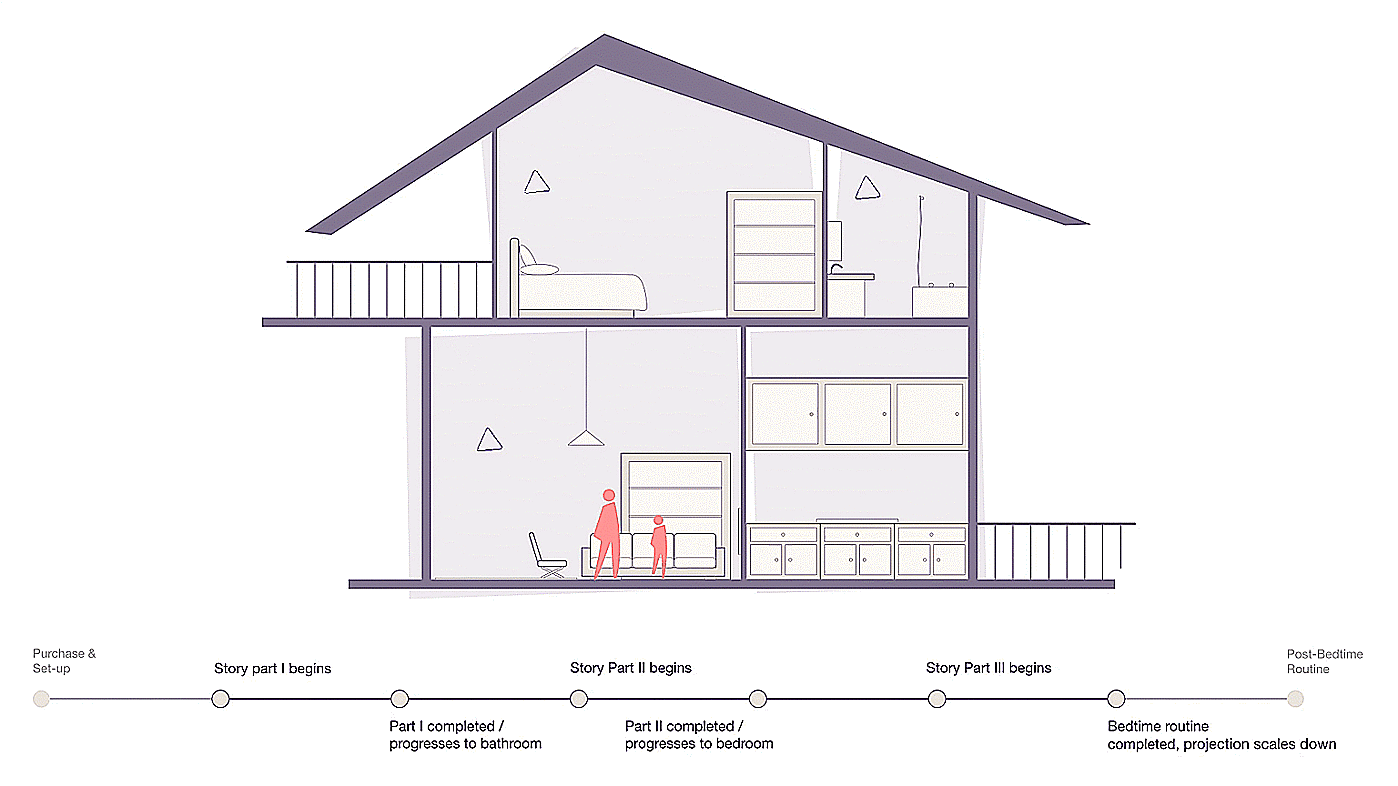 Interacting With The System
​​​​​​​
Interactions with the system had to

feel natural and easy

for users. To enable this, Iyagi enables users to use voice commands to control the system. We considered a range of scenarios in which the system would be used and ensure the speech input options offered were intuitive for users. 
Below is the interaction taxonomy that outlines key voice inputs and the function they control. 
Interacting With The Story
Iyagi's immersive stories offer unique interactivity that engages children and enables bedtime activities, like teeth brushing, to be incorporated into the story. Here are some examples of interactivity within the story, Jack and the Beanstalk:
Apart from voice, users may also use the Iyagi mobile application to control the story as well as important back-end functions, such as:
The video below illustrates the installation and set-up process of the Iyagi system.
We began by exploring sleep in different multi-user scenarios, such as college dorms, family sleep during hospitalization, families with a remote parent and parents with young children. We found that sleep habits of children between 3 to 6 years played a crucial role in their cognitive development and that a key factor of this were bedtime routines. 
Interested in understanding families' bedtime routines, we spoke to a few parents with children between the ages of 3 and 9 years. While our conversations were rich in anecdotes and interesting observations from the parents, here's what we learnt in a nutshell: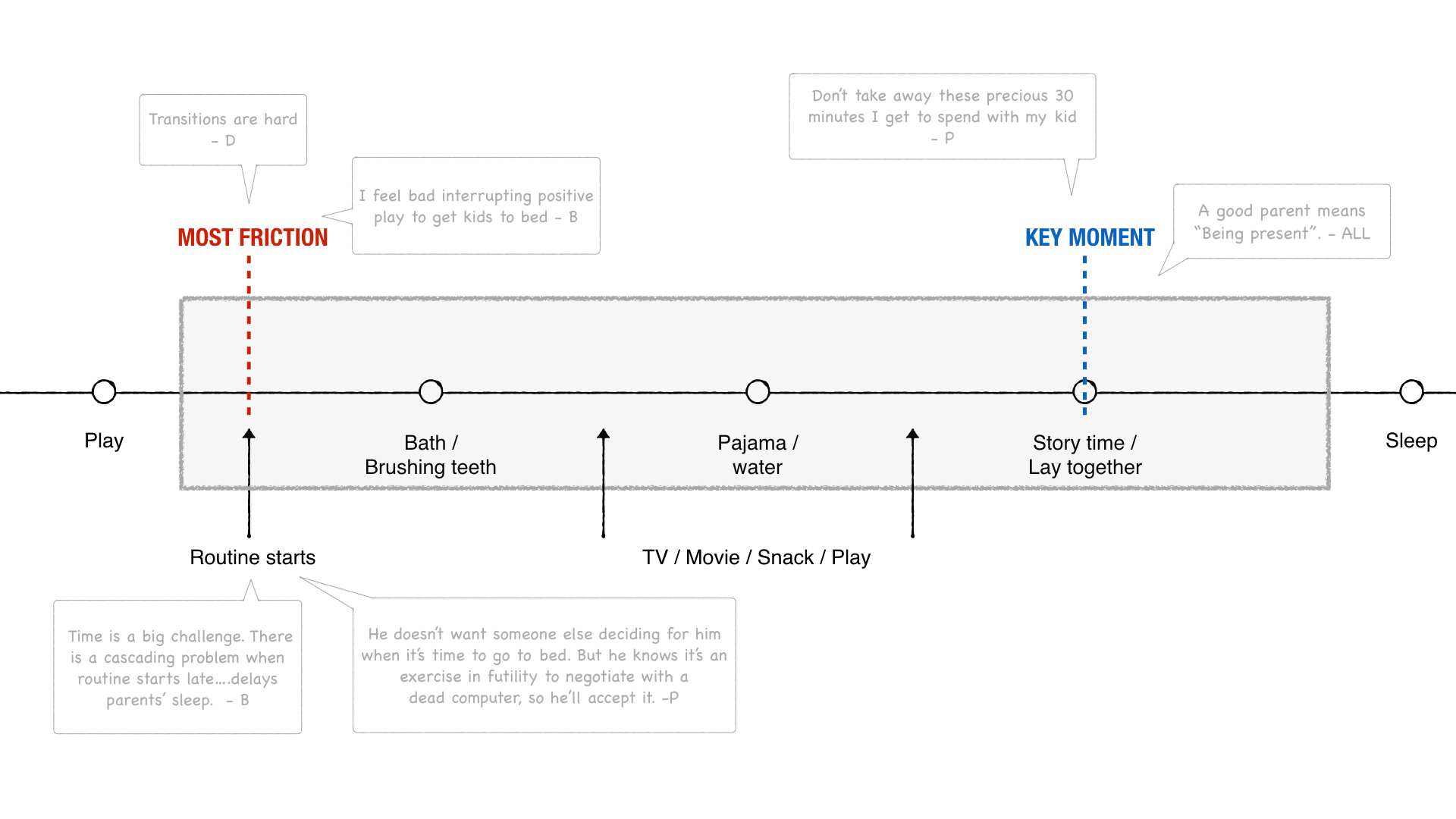 Insight #1
Every parent we spoke to stressed the challenge in initiating the bedtime routine and moving children away from what they are doing. We found that these transitions are intense points of friction that can lead to a lot of nagging and yelling.
Insight #2
Bedtime routines are family rituals.
Parents enjoy and cherish the bedtime routine and the meaningful bonding moments that they bring. Bedtime routines are not only the children's but the parents' too. However, these meaningful moments were sometimes diluted by the need to nag at their children.
Insight #3
bedtime routines on track.
Delays that take place before and during the routine tend to have a cascading effect on bedtime. While parents take this in their stride, we found that this was a pain point for most of them. 
One of the key opportunities that emerged from our research were around easing transitions, both while initiating the bedtime routine and while moving from one activity to the next during the routine. An interesting point we heard from every parent about their children was that once they started doing something it was very difficult to make them stop and move on, be it playing with their toys, drawing, or taking a bath. 
To keep our learnings from research in mind as we began ideating potential solutions, we developed three design principles:
Principle #1
Support moments of transition.
The friction during transitions were an important opportunity to support parents during the bedtime routine. So, we wanted to keep this front and centre.
Principle #2
It was clear that parents value the bedtime and wanted to be part of it. In our use of technology, we had to ensure that our solution supports them rather than replaces them. 
Principle #3
No two days in the routine look the same. This principle reflects the need for our system to be smart and constantly learning and adapting to the parent, child and the situation.

Some of the questions we asked ourselves were, how might we ease transitions into bedtime, how might we support parents in keeping the bedtime routine on track and how might we create space for meaningful moments during the bedtime routine?
We developed the following concepts into storyboards. First, a digital art board that uses art as a calming transitional activity from playtime to the start of the bedtime routine; the board also serves as a fun visual indicator of time. Second, an interactive path that guides children through the bedtime routine with story projections from nightlight-like devices. Third, a ball that acts as a co-participant in the routine as it directs children from activity to activity. The latter was intentionally chosen to test some of our assumptions as well as the limits of people's comfort.
We used feedback from parents and the Philips team along with a comparison against our design principles as a way to asses the strengths and weaknesses of these ideas. The concept behind Iyagi was born as a result of bringing together the successes of the three concepts. 
We also looked at what the broader Iyagi service ecosystem might look like with partnerships that would help enhance the user experience. Through integration with smart home systems, such as Philips Hue or Nest, Iyagi could create immersive environments for Iyagi's storyscapes through lighting and temperature for example. 
To create proprietary material for the Iyagi system, we see partnership opportunties with Disney for the creation and animation of these stories. Existing children's stories could even be re-created as "environmental" versions for the Iyagi platform. Finally, partnerships with Amazon could facilitate the distribution of this content.
We tested the storytelling tool with Felix, a vibrant, energetic 6 year-old. He was captivated by the images from the moment we turned on the projections. It was interesting to see him narrate his own version of the story, rather than listening to ours. 
While Felix's response was positive, this was a one off interaction with the system. For a more thorough evaluation of the Iyagi's effectiveness, we will need to observe how parents and children use the system on an on-going basis as part of their daily lives.