LunchBox
A shared kitchen space that provides working professionals with access to locally sourced ingredients, recipe inspiration and all the tools they need to whip up quick and healthy meals and a side of good conversation. 
Context:

 Interaction & Service Design Studio, Fall 2016. The brief for the project was to improve people's everyday experience of Pittsburgh and create meaningful impact in the city. 
Team:

With Allison Hu

ang, Lisa Li, Nehal Vohra
Dates:

 Oct to Dec 2016 (7 weeks)
Role: 

User Research, Ideation, Concept Development, Service Design, Space Design, Testing & Validation
Skills:

Service Design, Interaction Design, User Research, Storyboarding, Prototyping, Videography, Script Writing, 3D Modelling, User Validation
LunchBox targets working professionals in Downtown Pittsburgh who enjoy healthy, home-cooked meals but do not always have the time to cook them. 
The key elements of the service are:

Value Flow & Business Model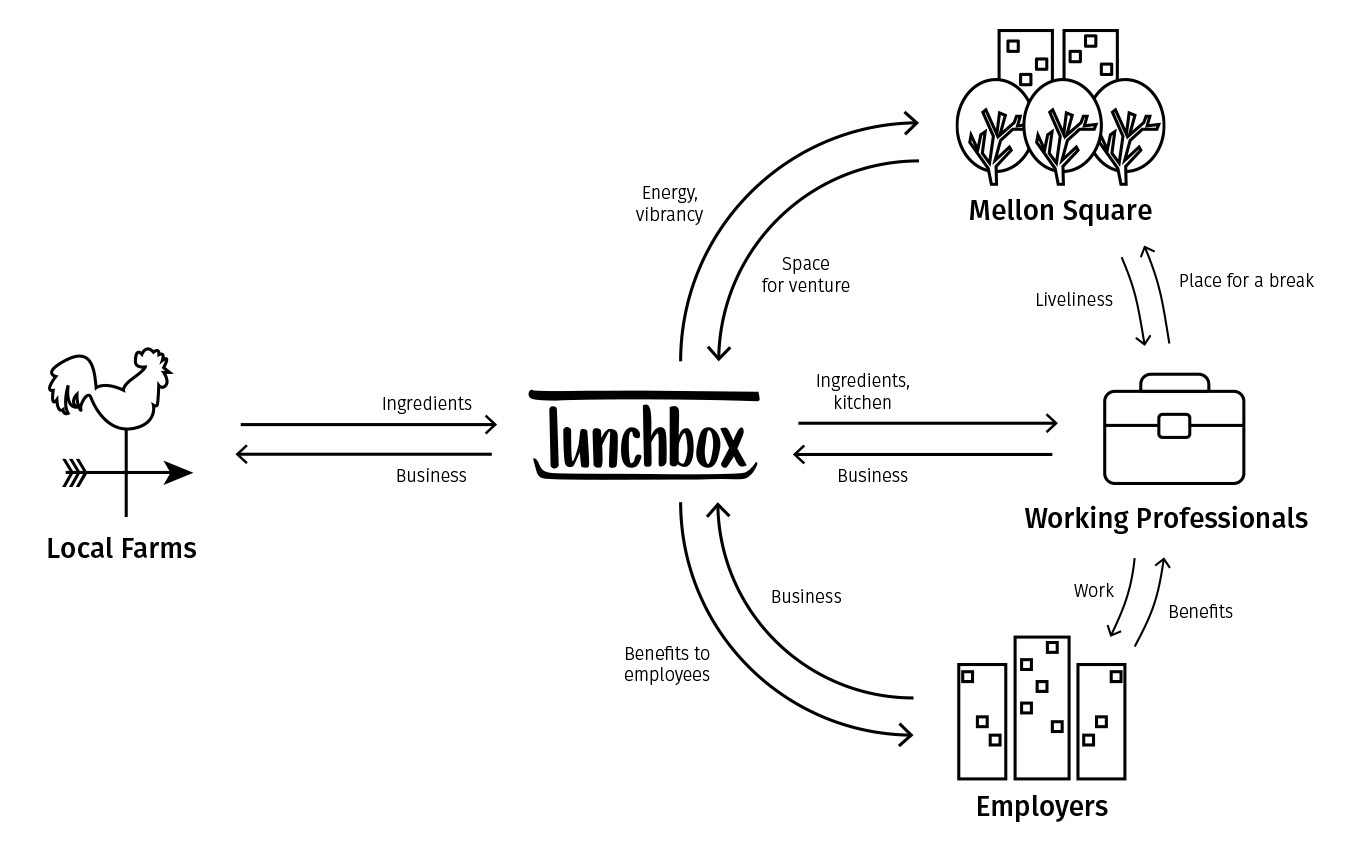 Our primary business model targets small and medium businesses to purchase subscriptions to LunchBox as part of a health and wellness benefits package. In doing so, they can compete with top companies in attracting and retaining top talent. 
Additionally, customers who are not subsidised by their employers can walk in and enjoy the service through a pay-per-use model.
The service blueprint tackles the nitty gritty of the service, and address questions like:
What does the customer journey look like? What touch points does the customer come into contact with? What are the front-stage, back-stage and other systems needed to support the service?
Mellon Square will provide local professionals with a green space to enjoy a relaxing lunch break, in turn bringing more vibrancy to the area.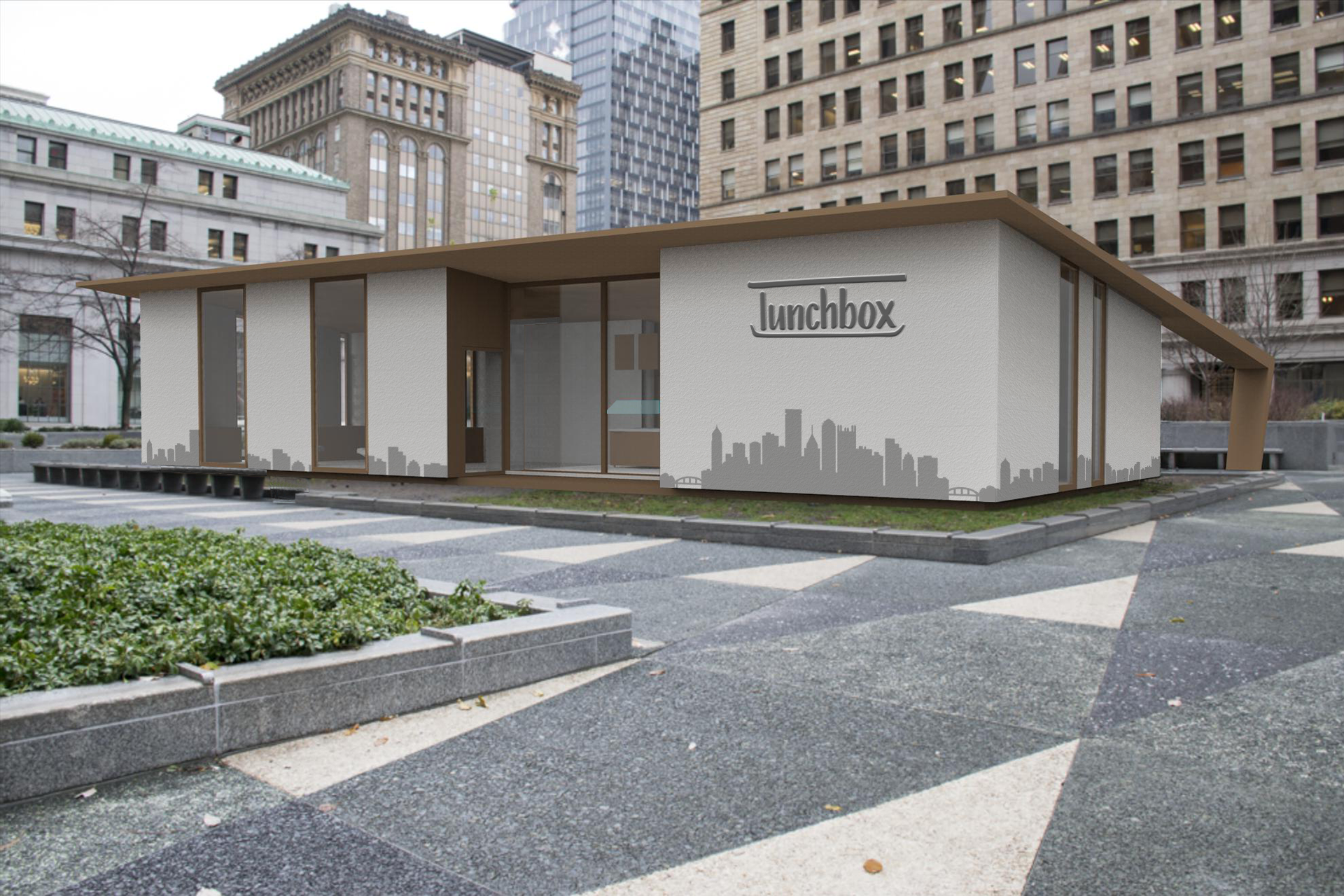 The interior space will be divided into three sections, kitchen, pantry and seating. Customers start at the salad-bar style pantry, where they select their ingredients. Then they move into the kitchen area, to assemble or cook their meal. Finally, they have the choice of sitting in the communal dining area or outside in the square. 
The design takes into consideration health regulations, such as providing sneeze guards over the ingredients bar, sufficient sinks and access to restrooms. 
The Pantry, The Heart And Soul Of The Kitchen
The feature wall showcases a different farm every month and highlights seasonal produce. Ingredients in the salad bar-style pantry are pre-chopped to help customers save time.
Recipe boards provide inspiration on what to make, as well as how to take advantage of seasonal offerings. The boards illustrate ingredients needed for customers to pick them up from the ingredients bar. Smaller recipe cards with cooking instructions are also available for customers to take with them to the kitchen.

LunchBox In Action
​​​​​​​
We decided to prototype a pop-up version of this service to help us: 1) validate the concept; 2) uncover insights into people's behaviour; 3) test usefulness of recipe ideas.
The response was extremely encouraging. People enjoyed cooking for themselves, especially because all the ingredients were prepped and ready for use. On average, they took about 8-10 minutes to make the stir fry (as shown in the recipe card above). We saw a few people stick closely to the recipe, while others experimented and added their own twist to the recipe. 
Validation From Working Professionals & Farmers
We spoke to five working professionals in the downtown area for their thoughts on this service. Four of them liked the idea and said it would be useful, and one said they wouldn't cook during lunch hour but could see some coworkers being interested. Their main concerns were about pricing - we would have to remain competitive with the $10-15 they currently pay for lunch - and the general flow of the space in terms of accommodating customers during busy periods.
"You can start buying from us next 
- Timothy, President of the Penn's Corner Farm Alliance
We also spoke to two farmers to get their perspective on LunchBox too. Timothy (President, Penn's Corner Farm Alliance) liked the concept, but mentioned that we would have to organise the logistics to pick up ingredients from their central warehouse. Rick (Co-Owner East Liberty Farmers' Market Cooperative) was particularly passionate about the awareness this service would raise on embracing the seasonality of food and learning where our food comes from. 

Given the open-ended brief, we needed to narrow down the scope of the project. We began with exploratory research to help us gain a better understanding of Pittsburgh's residents, and challenges they face. This involved field research in the Strip District, informal interviews with residents and local vendors, and observations.  
People feel strongly about 
supporting local businesses.
We found a strong sense of community and support for local businesses. People have vendors they have been coming to for decades, and the exchange of value between customers and vendors seemed to transcend monetary transactions.

Abandoned spaces in the heart 
of the city give 
"a feeling of failing".
In downtown Pittsburgh we observed a number of abandoned shopfronts and under-utilized public spaces. Even beautiful and newly rennovated spaces, like Mellon Square, see only a handful of people even at its busiest time of day.
Market Square has 7x more 
activity than Mellon Square and food is the differentiating factor
.
In Envision Downtown's Public Life + Public Space Survey, a comprehensive look at activity levels in various public spaces located in downtown Pittsburgh. We saw that Market Square has far more activity compared to Mellon Square, despite being comparable in terms of size and amount of seating. Why? The presence of food establishments.
90 businesses employing (roughly) 40,000 employees within 6 minutes of Mellon Square
.
To get a sense of the scale of our potential impact, we did a study to understand how many people worked in the vicinity. Through a number of Google and LinkedIn searches, we estimated 40,000 working professionals within a 6 minute radius of Mellon Square. 
We organized our observations and findings from research to identify areas of opportunity and did a few ideation exercises to generate a variety of challenges. After narrowing down the areas with the most potential, we devised a series of "How Might We" questions in order to generate ideas on ways to approach them. E.g. How might we bring more people to Mellon Square? How might we generate energy and aliveness in Downtown Pittsburgh?


We then developed some of these ideas, urban furniture for social interactions, a shared kitchen space, and explored them in more detail. The idea of a shared kitchen space to draw more people into Mellon Square proved to be the strongest when measured against our core principles.

Storyboarding The Service
This concept is targeted towards busy working professionals who want a lunch that is convenient, pocket-friendly and healthy. It would give them access to fresh ingredients, and kitchen space where they can whip up meals without having to spend time cooking in the mornings. 
How would a service like this fit into the daily lives of our customers? What happens leading up to the service experience? These are some things we tried to explore through storyboarding. 
Validation From Experts & Potential Users

Before going further, we needed to assess whether a service like this would even be useful. So, we surveyed 20 working professionals, asking them about their lunchtime habits to assess the need for such a service. 10 of them responded positively, saying they would find the service useful. 
"If you add friends to cook with and a 
rotating
cooking schedule, that gets exciting."
"It would make life easier."
We also spoke to Molly Steenson and Francis Carter with experience in service design, and food and social innovation respectively. They thought the concept was novel and urged us to look into food regulations, finding ways to simplify the cooking process, and develop a strong business model.
We see LunchBox as a way to build a culture of eating healthy and sustainably not only in Pittsburgh but in other cities as well. We see this as a service that can be replicated in other locations across the country.